Heritage Isles captures the true essence of Florida. The course is surrounded by native wildlife, tranquil ponds, and a cascading backdrop of Cypress trees.
Phone Number: 813-907-7447
Enjoy breakfast or light dining in the Dining Room or on the Terrace in the classic Clubhouse Restaurant Bistro and Bar. Have a cocktail while you sit back to watch a game, enjoy a fresh salad or tasty snack, and relax in a casual environment with a fantastic view of the golf course. The BayScape Bistro is open daily offering breakfast, lunch, and dinner. Drop by to watch Monday night football and other sporting events throughout the week.
Whether or you are a local regular or a new friend, it is our pleasure to host you. We look forward to welcoming you to BayScape. 
HOURS & LOCATION
10630 Plantation Bay Dr,
Tampa, FL 33647
Sunday – Thursday: 9:00 am – 9:00 pm
Friday: 9:00 am – 10:00 pm
Saturday: 9:00 am – 10:00 pm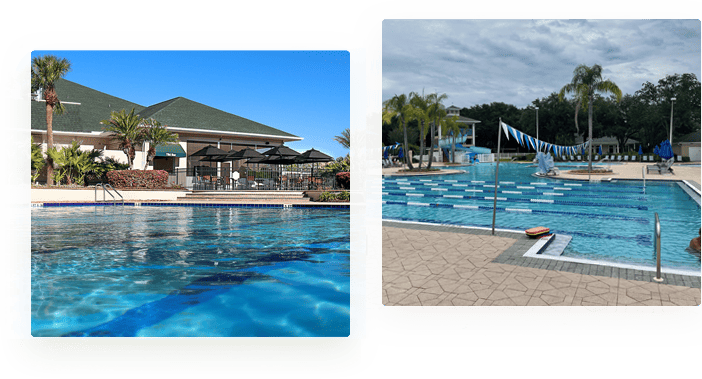 Our Pool facility, also with controlled access, is the envy of North Tampa, with its water park style slide, lap lanes, family areas and separate children splash area. We are located off of Cross Creek Blvd. between Bruce B. Downs and Morris Bridge Road.
The address for the community clubhouse is 10630 Plantation Bay Drive, Tampa, FL 33647.
Pool Hours:
April 1 – October 31     8:00 am – 10 pm
November 1st – March 31    8:00 am – 8:00 pm
Phone Number: 813-907-1370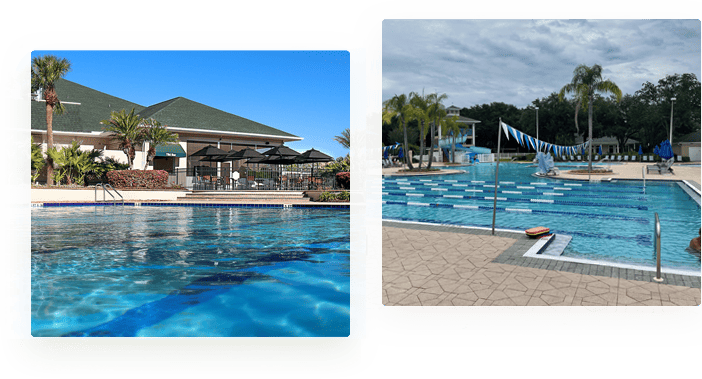 The Fitness Center/Recreational Building at Heritage Isles was newly constructed in 2015. The building is over 8,000 sq ft that includes 2,500 sq ft of gym space; this is the most gym space for a community along the Cross Creek corridor. The layout consists of state-of-the-art Cybex exercise equipment, which is widely used at most professional exercise centers. Multiple treadmills, specialty machines such as rowing and stair stepper, and several pieces of Nautilus/Universal equipment are available for use.
The gym also has some free-weight components if that is also the desired choice. The gym has a vast equipment selection, so you rarely wait to use something, keeping your workout time consistent. The building also contains two activity rooms for yoga, art classes, birthday parties, and private meetings. The CDD has a schedule for renting these areas. If you have a private function, you will need to contact the CDD site manager to arrange a reservation.
Fitness center hours of operation: 5:00 am 10:00 pm
Phone Number: 813-907-7388 Ext 115
The gym opens up every morning with an access card at 5:00 am
To obtain an access card the hours are as follows:
Monday – 9:30 am – 3:30 pm
Tuesday, Wednesday, Friday 9:30 am – 9:00 pm
Thursday – 9:30 am – 3:30 pm
Cards may be renewed on the weekend up to from 6:00 am – 9:00 pm
Guests:
Residents 18 yrs. and older are allowed 10 guest per week
Minors 13 yrs. – 17 yrs. are allowed 1 guest who has to be their age or older.
The main Clubhouse at Heritage Isles was originally constructed in 2001 and recently underwent a complete renovation in 2016. The renovation of the clubhouse included the entire restaurant footprint with several expanded areas.
The kitchen is equipped with commercial equipment that contains a layout functional to produce a 300 person banquet. The dining/bar facilities include acoustical components to minimize the impact of sound while enjoying your dining experience. An outdoor Tiki Bar with a patio adjacent to the pool also is part of the restaurant facility for those wishing to enjoy great weather along with a nice tropical drink.
The banquet room for events is large enough for 140 + seating capacity or 300 theatre-style seating. The banquet room also has a 150" projection screen with a wireless microphone for special event presentations/slideshows. Private functions are available and need to be scheduled through the current restaurant operator Bayscape Bistro at Heritage Isles.
The clubhouse also has a library for residents use which is open to all. Should you need to reserve this space for a private meeting, you need to contact the CDD site manager.
Phone Number: 813-907-7388 Ext 100
The Heritage Isles Golf and Country Club Community Association, Inc. ("HOA") is managed offsite by Condominium Associates and their offices are the Association's business address, which is 2019 Osprey Lane, Ste. B, Lutz, FL 33549, 813-341-0943. The HOA is responsible for the enforcement of the Association's deed restrictions within the community.
The Heritage Isles Golf and Country Club Community Development District ("CDD") is managed onsite by Rich Unger and can be reached at 813-907-7388 x102. The CDD is responsible for the management and maintenance of all of the community amenities and common property.
Heritage Isles is located 30 minutes from Downtown Tampa and 40 minutes from Tampa International Airport. Several major hospitals, along with the James A. Haley Veterans Hospital and the University of South Florida are all just 15 minutes away. Major shopping, outlet malls, restaurants and entertainment are all close by.
The purpose of this Website is to provide the best and latest information to the residents and potential residents, and to increase the Association's ability to communicate and respond to the needs of the community. We hope you find the information contained in and on our various pages useful.
Thank you for visiting.
All amenities are owned, managed, and operated by the CDD, and questions concerns regarding the use and access to amenities should be directed to Rich Unger, contact phone # 813-907-7388